Janice Del Negro is the editor of the 5th edition of Storytelling: Art and Technique, published in June 2021 by Libraries Unlimited. In this interview, conducted by Rebecca J. Morris, Del Negro reflects on the history of this classic book and previews the changes that make the 5th edition so important for current storytellers.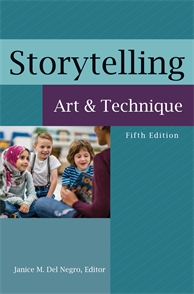 RM: Congratulations on the publication of the 5th edition of Storytelling: Art and Technique! Can you talk about the legacy of this storytelling text? Readers may already know, or be curious to learn, that this distinguished guide to crafting one's storytelling practice and honoring its traditions was originally written in 1977 by Augusta Baker and Ellin Greene.
JD: Storytelling has a more-than-100-year history as a vital part of public and school library programming, expanding in the 1970s to include adults as well as children from pre-school to high school. Augusta Baker, the first African American administrator for the New York Public Library, was storytelling specialist and then coordinator of children's services; Ellin Green became the storytelling specialist after Mrs. Baker, and they collaborated on the early editions of SAT. SAT was both a history of storytelling in libraries and a handbook for contemporary librarian storytellers. Today it walks the balance between tradition and change.
RM: In the book's introduction, you acknowledge that "the state of story-telling recordings has changed tremendously since the fourth edition" (xiii). What elements of the previous texts will readers recognize? What new topics and themes are you excited to introduce?
JD: The body of the text includes much that is new, and anything that isn't new has been revised. All bibliographies have been updated, for example, although I kept a list of Ellin Greene's favorites for the young ones. Chapters on the why of storytelling, the benefits of listening, researching folktales, digital storytelling, and storytelling with folktales are all new additions.
RM: In the book's acknowledgments, you recognize the work of generations of librarian storytellers, as well as "contemporary librarian storytellers who continually reinvent their storytelling and their profession" (vii). How is that reinventing of storytelling represented in this edition?
JD: This edition hopes to reinforce past best practices while expanding to include recognition of how the art of contemporary storytelling has expanded to include the changing technological environment, a growing understanding of issues surrounding cultural misappropriation, the changing audience, the personal story, and understanding the neuroscience of story telling and story listening.
RM: A new chapter is "Storytelling with Folktales: History, Community, and Appropriation," which you wrote, and which includes a special section by professional storyteller Donna Washington on the topic of cultural misappropriation in storytelling. Her section tackles complicated questions like "Which groups of people are allowed to tell ethnic stories? Are some stories off-limits? If I'm not black, can I tell a Brer Rabbit story? If I'm not first- or second-generation First Nation, can I tell one of the indigenous creation tales? How do I know if I have overstepped? Who do I ask?" (333). Can you talk about why the perspectives and understandings of this chapter are important for today's storytellers?
JD: Every story requires reflection. Storytellers and librarians are aware that there are issues involved in telling stories from cultures not their own, particularly if those cultures have been and are still being historically oppressed. At the very least a storyteller should know the source of their story, and, if possible, its function in the culture from which it came. The whole story about this issue includes the fact that many cultural groups, indigenous and otherwise, consider stories cultural property, rightfully belonging to their specific culture. The importance of listening applies here—heeding the points of view of storytellers from these cultures is crucial to the larger picture. Telling stories with respect means respecting the stories, the storytellers, and the cultures from which the stories come.
**
Janice M. Del Negro, PhD, is a professor at the School of Information Studies at Dominican University in River Forest, Illinois. Her book, Folktales Aloud: Practical Advice for Playful Storytelling, was awarded a Storytelling World Resource Award in 2015. Her subsequent title, Engaging Teens with Story: How to Inspire and Educate Youth with Storytelling (With Melanie Kimball, PhD, 2017), was named SLC/ARBA's "Best Professional Resource for School or Youth Librarians." In 2017 Del Negro received the National Storytelling Network's Circle of Excellence Award, "presented to artists who are recognized by their peers to be master storytellers who set the standards for excellence and have demonstrated, over a significant period of time, a commitment and dedication to the art of storytelling." The 5th edition of the classic storytelling text Storytelling: Art and Technique (ABC/CLIO, 2021) is her most recent publication.
Rebecca J. Morris, PhD, is teaching associate professor at the University of Pittsburgh. Her recent scholarship includes chapters and articles on teen access to library services in the pandemic, digital storytelling, and research methods in school librarianship. Her publications include articles in School Library Research, Knowledge Quest, School Libraries Worldwide, Teacher Librarian, and Journal of Research on Libraries and Young Adults. Dr. Morris authored School Libraries and Student Learning: A Guide for School Leaders. She serves as co-editor of School Library Connection.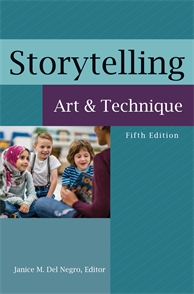 Janice Del Negro's book Storytelling: Art and Technique, 5th Edition serves as both a textbook and reference for faculty and students in LIS courses on storytelling and a professional guide for practicing librarians, particularly youth services librarians in public and school libraries.